Doosan Portable Power launches new light compaction line at World of Concrete
admin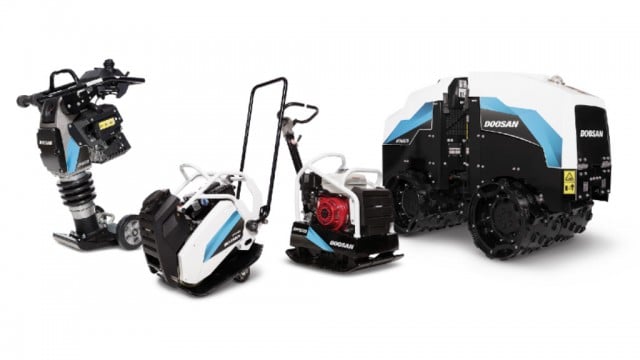 Doosan Portable Power will showcase a new light compaction line in exhibit W1119 at World of Concrete 2022. Four new light compaction machines will be on display: a forward plate compactor, a reversible plate compactor, a trench roller and an upright rammer. The trench roller is a new product addition to the Doosan Portable Power lineup, while the other three machines have significant product updates.
Each machine in the lineup is redesigned and powered by the latest Honda or Yanmar engines. Extra attention was paid to making service points easy for operators to access without tools while also adding guarding in vulnerable places to maximize durability.
New machine options increase ease-of-use and maintenance, including available transport wheels for all models, hour meters to track service intervals and water sprinklers.
The Doosan DTR3275 trench roller
The new Doosan DTR3275 trench roller enables more efficient, safer trench compaction. The roller is operated from a wireless remote that is solar-powered, so crews do not need to enter the trench or worry about charging a remote.
The Doosan DT3275 articulates left to right while also oscillating up and down. This wide range of movement increases roller ground contact to complete the job in fewer passes. The central articulation joint is maintenance-free for increased up-time.
Doosan DTR3275 trench roller specs
Machine Weight: 3,197 lbs.
Drum Diameter: 20.7 in
Drum Width: 33.5 in
Centrifugal Force Settings: 8,093 lbs. (36kN)/16,860 lbs. (75 kN)
Engine: Yanmar 3TNV80F
Doosan DRX70 upright rammer
The Doosan DRX70 upright rammer has an optional air pre-filter system that lowers pressure on the air filter and extends air filter life to reduce the cost of machine ownership. To further extend up-time, all major service points can be accessed without tools.
The rammer's offset shoe design makes it easier for operators to place the shoe against walls, and is available in six different shoe widths. Operators can adjust the handle to three positions, matching the height of the operator, for a more comfortable, ergonomic operation
Doosan DRX70 upright rammer  specs
Machine Weight: 150 lbs.
Standard Foot Size: 13.4 in x 11 in.
Centrifugal Force: 2,923 lbs. (13 kN)
Engine: Honda GXR 120
Doosan DRP3220 reversible plate compactor
The hand-arm vibration reduction of the Doosan RP3220 reversible plate compactor makes the machine comfortable to operate. Increasing ease-of-use, the baseplate self-cleans.
Available options include a rubber paving pad that easily attaches without tools. Other options available are transport wheels for easier movement around the job site, a water sprinkler to prevent fresh asphalt from sticking and an hour meter.
Doosan DRP3220 reversible plate compactor specs
Machine Weight: 439 lbs.
Machine Width: 19.7 in.
Max Centrifugal Force: 7,194 lbs. (32 kN)
Max Vibration Frequency: 90 Hz
Engine: Honda GX 270
Doosan DFP1520 forward plate compactor
The DFP1520 forward plate compactor is simple to use and maintain for operators of all experience levels. All service points are accessible without tools and an optional rubber mat for use on pavers can be installed in seconds with no tools. Other options include an hour meter, transport wheels and water sprinkler system.
Doosan DFP1520 forward plate compactor specs
Machine Weight: 185 lbs.
Machine Width: 19.7 in.
Max Centrifugal Force: 3,372 lbs. (15 kN)
Max Vibration Frequency: 100 Hz
Engine: Honda GX 120