Donaldson Filter Minder Connect tracks fluids and filters
admin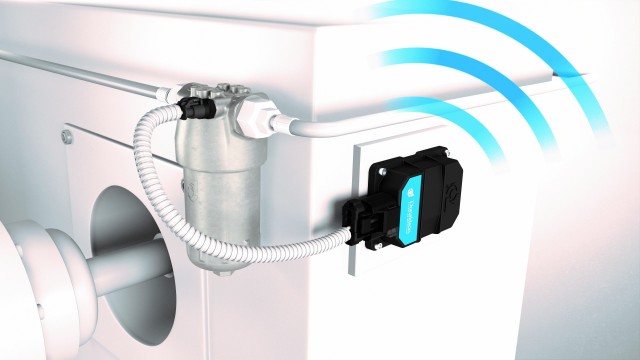 Fleet managers are always searching for opportunities to tighten up the bottom line when it comes to maintenance costs, and the ability to extend service intervals on the vehicles and equipment they oversee is one route to greater efficiency – but a challenge. Get it right, and costs come down. Get it wrong, and costs can skyrocket due to unexpected downtime.
Fluid and filters are one area in which some efficiency can be found, if done carefully. Fleet managers can now take advantage of technology to determine the best times for fluid and filter changes, as well as to gain insight on potential problems that may otherwise not be noticed.
Fluid and filter monitoring through Donaldson's Filter Minder Connect gives managers greater insight into the health of their equipment's systems and offers the opportunity for more precise decision-making when it comes to planning maintenance. The system, which now extends to fuel and oil monitoring on heavy-duty engines in trucks and off-road equipment, is a way to gain key information and use that data wisely.
"When we set out growing this technology, we wanted to be able to provide actionable information to better manage your fleet today – we do that by integrating our technology into software apps already deployed," explained Nick Botnen, account manager, connected filtration solutions with Donaldson. "This technology is mitigating against unplanned downtime incidents, and whatever we can do to mitigate against those occurrences is valuable."
Wireless integration adds effectiveness
Filter Minder has been available for some time, but wireless integration with fleet management systems makes it more effective in gathering and sharing data. The system relies on a variety of components installed in key locations to help keep an eye on engine and system health.
Tracking the health of filters is key to overall engine health, especially when vehicles are operating in different challenging locations and conditions, said Nate Zambon, director of Filter Minder. 
"Our customers may have a variety of different applications; maybe they have trucks working in a heavy dust environment, or in other cases in an over-the-road application. In one case, we had a customer whose trucks went through an industrial area of a big city, and interestingly that truck had an extremely high variation on how the filters load," Zambon said. "If they're trying to standardize filter management across a fleet, that can be a challenge."
For filters, the general approach is to install a pair of sensors on either side of the filter that measure pressure and can determine when the useful life of that filter is nearing its end. Air filters are tracked based on airflow through the air cleaner. Hydraulic fluid filters are also measured based on differential pressure.
Oil condition monitoring is one of the newer aspects of Filter Minder Connect, and has drawn plenty of interest from customers, according to Zambon. Once the sensor is installed in the oil flow of the engine, it can track a variety of conditions including density, viscosity, dielectric constant and resistivity that provide a snapshot of oil health.
"Donaldson takes a number of parameters and puts them all together in coming up with a single value that says what the overall oil health is," Zambon described. "This helps to answer for fleet managers the question of when to change the oil. Many fleets recognize there are ways to optimize when those drain times should occur."
Predictive analysis aids users in decision making
Once the filters are in place, a vehicle-mounted receiver collects information wirelessly, and then pushes it to the cloud, where predictive analysis aids users to make better decisions as to when they should handle maintenance on that particular piece of equipment. The system can collect data from mixed fleets of all kinds, making it versatile.
Fleets that use Geotab telematics can seamlessly integrate Filter Minder Connect and view data on the Geotab dashboard. Others who use a variety of other software packages can also import information to their systems.
"One thing we've heard from customers is that they don't want to have to go into another website to track their filter information. We've been building out our APIs so that customers can bring them into their fleet management systems and it is all then consolidated with their other maintenance activities," Zambon said.
Donaldson says that fleets in mining, construction, transportation and agriculture operations can make good use of the data collected by Filter Minder Connect, for both maintenance planning and parts management.
"This technology is designed to free up time – if we have a better understanding, we can provide more lead time as to when these service activities are going to occur on equipment so we can more effectively plan and prepare for these activities," Botnen noted. "On the other hand we can look at it from an inventory perspective: if we have a better understanding of when we're going to need these replacement elements and inventory, it may be an opportunity to free up some capital tied up in inventory right now and put it into other parts of your business."
Donaldson plans to continue adding more monitoring features to the Filter Minder Connect portfolio, including an oil contamination model that is currently in the testing phase, that could provide warnings if an issue crops up between regular maintenance and oil sampling.