DEVELON offers Transparent Bucket and more technology standard on next-generation wheel loaders
admin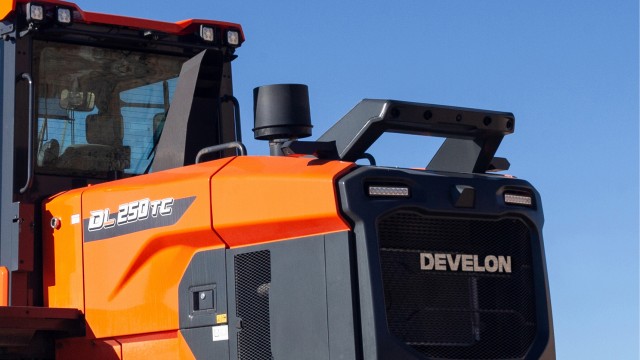 Cameras on the cab and front axle combine to create a view "through" the loader bucket.

DEVELON

The unobstructed view to the front of the machine allows operators to see and avoid dangerous situations like people, construction materials, and other obstacles that may be in their path. It also allows the operator to efficiently dig into and precisely place material, improving productivity.
Additional visibility is provided by the AVM camera system, made up of three cameras and several sensors mounted on the loader to give up to 270 degrees of enhanced visibility. Objects within eight to 12 feet of the machine trigger a flashing green caution box in the cab to notify the operator, while objects four to eight feet away start a yellow caution box, and anything within four feet lights up a red triangle and red border notification.
The combination of the AVM camera system, floor-to-ceiling side cab windows, and the Transparent Bucket technology gives operators nearly 360 degrees of visibility, greatly reducing the possibility of hitting another object on the job site.
Other smart technologies available on the -7 Series wheel loaders include DEVELON Fleet Management telematics, which allows owners to monitor their fleet and manage maintenance using a smartphone, tablet, or computer. They track machine location, operating hours, fuel usage, idle versus work time, error codes, and other data points.
Situation Awareness Technology (SAT) monitors the machine's activity and adjusts the wheel loader engine's output to match real-time requirements of the hydraulic system and drivetrain.
Smart Guidance System analyzes operator driving habits and offers tips on the Smart Touch display to improve efficiency. A Load Isolation System improves stability while moving, aiding in reduced cycle times, improved productivity, and higher fuel efficiency. The Smart Load weighing system tells the operator the weight of material in the bucket.