CM Labs expands Trimble integration to more training packs
admin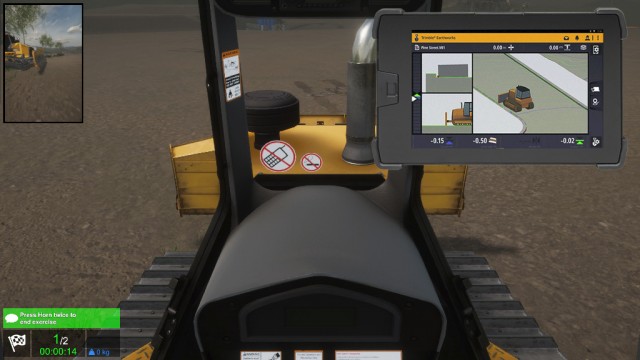 CM Labs Simulations, the developer of Vortex training simulators, has expanded its integration with the Trimble Earthworks grade control platform on two additional simulators: the dozer and motor grader simulators. This ongoing collaboration has started to gain more adoption.
"Our simulators allow operators to learn new technologies and workflows safely, with a higher level of competency, before using real equipment," says Lisa Barbieri, vice president of products at CM Labs. "We offer 'future-proofed' training to prepare workers as the work site modernizes. Simulation provides training organizations access to these technologies, such as Trimble Earthworks, while ensuring their curriculum meets the needs of a changing market."
Trimble Earthworks software works in parallel with CM Labs' software and runs on a tablet that connects to the simulator. Using the simulator, visual aids are overlaid onto the existing ground along with cut/fill information, slope data, and other customizable reference points to provide the user with a better understanding of the work that needs to be done. 
Trimble Earthworks, combined with CM Labs' machine realism, builds skills that transfer directly to the job site, to train operators of all experience levels on how to work more efficiently, and lay the foundation for technology transition and adoption. There is no simpler way to prepare operators for the tools that are part of technical job sites.
"We see great value in the curriculum CM Labs offers for Trimble's Earthworks machine control", says Cameron Clark, earthmoving industry director at Trimble. "With the ongoing labour shortages, simulation training provides a unique opportunity to train contractors cost-effectively."
Trimble Earthworks is now available as an add-on with CM Labs' excavator, dozer, and motor grader simulation training packs. The software is compatible with all of CM Labs' Vortex Simulators, including the desktop Vortex Edge Plus, the motion-enabled Vortex Edge Max, and the high-immersion Vortex Advantage.